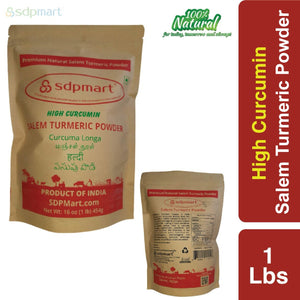 SDPMart Premium Turmeric Powder
Pride of Salem
Sourced from Salem, Tamil Nadu, India – this turmeric is one of the most powerful spices and Ayurveda's favorite ingredients. The bright yellow spice is high in Curcumin content (>3%) and gives an earthy taste with citrusy bitterness and a pinch of pepper.
It is also called Haldi in India and is used as a go-to fix for several health problems and minor cuts. It is a strong antioxidant and powerful anti-inflammatory agent.
Usage

A staple ingredient in every Indian dish.

Add a pinch of turmeric to milk and other dishes to get a delectable taste and destroy any bacteria.

Used in cosmetics for color and anti-bacterial properties.
Benefits

Curcumin helps to improve the memory of an Alzheimer's patient.
The anti-inflammatory property provides great relief from arthritic pain.
Turmeric activates the gallbladder to produce bile and instantly makes the digestive system efficient, lessens the effect of bloating and gas.
The natural antiseptic and antibacterial properties make it a special agent to treat cuts and infections. Can be applied raw and directly on the skin.
Helps to stimulate the immune system.
---
---
You may also like