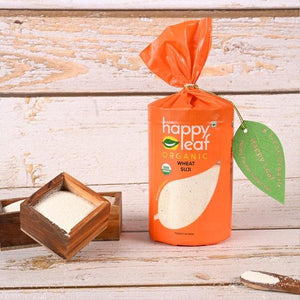 Organic Wheat Suji (Wheat Semolina) - 3.5 lbs
Wheat suji (Semolina) is the coarse purified wheat middling of whole wheat used in making pasta and also used for breakfast cereals and puddings. Wheat Suji is made from softer type of wheat which is whiter in color. When boiled turns into soft and mushy porridge. The glycemic index is lesser than rice.
We provide the finest quality of wheat suji that has high gluten content, high in protein, dietary fiber, carbohydrates. As it is bland in taste, it can be used to make savory and sweet dishes. Since, Wheat Suji (semolina) cooks quite fast; it can be used in making breakfast porridge, desserts, pasta dough. It is known for its low calorie content, rich flavor, rich aroma, high nutritional value, free from pesticides and high energy factor.
---
---
You may also like