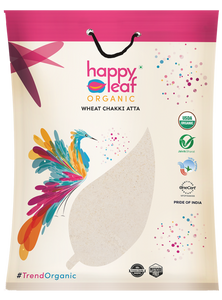 Organic Wheat Chakki Atta (Wheat Grain Flour ) - 10 lbs
Atta or resultant atta means the coarse product obtained by milling or grinding clean wheat free from rodent hair andexcreta. Atta or Chakki Atta is a whole meal wheat flour, originating from the Indian subcontinent, used to make flatbreads such as chapati, roti, naan, paratha and puri. It is the most widespread flour in the Indian subcontinent.
Whole common wheat (Triticum aestivum) is used commonly to make atta, has high gluten content which provides elasticity, so dough made out of atta flour is strong and can be rolled into thin sheets.
The word 'whole' is used to describe atta as it includes every aspect of the grain, meaning the bran, germ and the endosperm.
In India, about 80% of the 94 million tons of wheat produced is processed mainly into atta by disc mills numbering 4 lakhs.
Nutritional information:
Wheat Chakki Atta has many health benefits: It contains Vitamin B, dietary fiber, iron, magnesium, and prevents weight gain. Adding Whole Wheat Chakki Atta as simple substitutions in your eating routine helps you receive the healthful reward.
Whole wheat atta is a Zinc rich flour. A vital mineral for the skin, the Zinc in the flour has healing properties. This property of the mineral is used by the skin, for its health. Another contribution of Zinc is towards the regulation of oil glands in the body. Excessive oil secretion leads to outbreaks, like acne, on the skin. Hence a healthy dosage of Zinc from whole wheat atta and other food sources, help the skin to stay blemish free.
---
---
You may also like