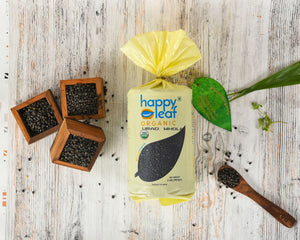 Organic Urad Whole (Black Gram Whole) - 3.5 lbs
The product sold as black lentil is usually the whole urad bean.Whole urad or black gram is a bean grown in southern Asia. Black gram has been cultivated in India since ancient times.The whole bean, or the split and de-husked variety are used to make dal, for accompanying rotis and rice. It is also used to make the famous south Indian idli and dosa.It is very nutritious and is recommended for diabetics, as are other pulses.They derive their strong, rich, earthy flavor from the black skins, and have an uncanny ability to absorb flavors.Urad whole lentils are creamy white in color and have a milder flavor than whole Black Urad Dal.
It is very nutritious and rich in protein.This dal is one of the richest sources of proteins and Vitamin B. Urad dal is also good for women as it has iron, folic acid, calcium, magnesium, potassium which makes it a healthy pulse.For those who do not eat meat or fish, have black gram as it is rich in protein which is much required by the body.
HEALTH BENEFITS:
- Contains dietary fibre helps in better digestion, thus preventing constipation.
- Good source of iron and folate which contributes to maternal tissue growth during pregnancy and Iron contributes to normal cognitive development of children.
- Excellent source of Calcium which is needed for the maintenance of normal bones.
- Good source of protein which contributes to the maintenance of muscle mass.
---
---
You may also like