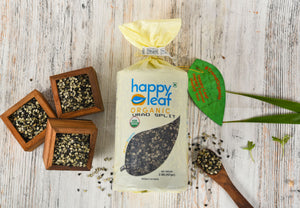 Organic Urad Spilt Chilka (Black Gram Split) - 3.5 lbs
Split black Urad dal or Black grams are also known as Black chilkaurad dal. These Black urad lentils have been split but not skinned and have creamy white interior. Black urad dal is very delicious in taste and easy and quick to prepare compare to whole black urad. Urad split chilka is known to reduce excess body weight. Urad split(chilka) is rich in protein and B-vitamins, which are essential for energy metabolism, while curds bring in some more protein and high calcium to make your bones stronger. It is also rich in fibre which makes it easy to digest.
Split black Urad dal is one of the richest sources of protein and vitamin B. It is high in Antioxidant Levels and rich in fibre. Consuming urad dal chilka also helps to reduce cholesterol and improves cardiovascular health.
Nutritional Information:
Urad Dal Black Split is rich in fibre, which helps to improve digestion.
It contain high quantities of magnesium and potassium, that is essential for heart health. It maintains the cholesterol levels and prevent atherosclerosis.
It is rich in iron, that helps to increase the energy levels in the body.
It contain minerals which helps to maintain bone health.
---
---
You may also like