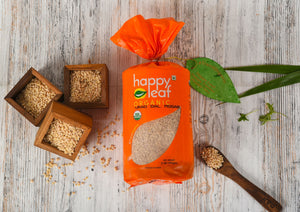 Organic Urad Dal Mogar (Black Gram Split Dehusked) - 3.5 lbs
Urad dal (white urad) mogar is the skinless and often split urad bean. This white lentil is rich in protein and the iron content is good for improving hemoglobin count. Urad dal is great for vegan and cow fat diets and is very nutritious. It is easy to digest and recommended for diabetic people. Urad dal helps to improve the digestive fire and corrects indigestion. The dietary fibre present in urad dal mogar helps in better digestion, thus preventing constipation.
Nutritional Information:
The presence of iron and folate in urad dal contributes to maternal tissue growth during pregnancy and Iron contributes to normal cognitive development of children. This dal is one of the richest sources of proteins and Vitamin B.
Urad dal or black gram dal is usually used as whole black gram and white when it is deskinned as whole or spilt. Urad dal is the main ingredient that offers rich and delicious taste to very famous dal makhana. Urad dal items like idly, dosa, tasty bonds and vadas are a staple for breakfast and it is piled up with nutrition.
It contains abundant amount of both soluble and insoluble dietary fibre, urad dal promotes digestion.
---
---
You may also like