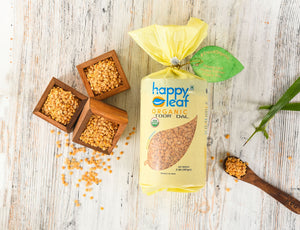 Organic Toor Dal (Pigeon Pea Split Dehusked) - 3.5 lbs
Tuver dal or arhar dal is a rich source of protein, carbohydrates and fibre. This humble pulse facilitates to meet your daily demands of iron and calcium. Besides these, toor dal is an incredible source of folic acids which is essential for fetal growth and prevents the birth defects of the new-born.
Tuver dal is a staple among many of the diverse cultures and cuisines, serving as a source of protein and a vegetarian meat alternative.The mild-flavored tuver dal goes well with many flavors, including curry, coconut, ginger, onion and turmeric. In addition to serving the pulse as a source of protein in a main meal, tuver dal is also used to make sweets and snacks, such as dal halwa (dense, moist, sweet confection) and paruppavada (type of fritter).
---
---
You may also like