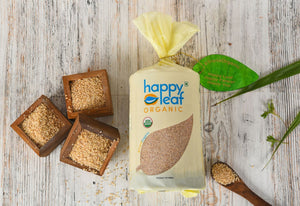 Organic Roasted Wheat Dalia - 3.5 lbs
Dalia khichdi recipe is also popularly known as broken wheat khichdi. Dalia is loaded with a range of health benefits. It has long been a part of the Indian cuisine since ages. Made with broken wheat, Dalia is easy to digest and is full of nutrition. It is high in fibre and is believed to be one of the best foods for weight loss. Dalia can be made in several ways and is one of the healthiest options for breakfast/lunch and dinner. Here are some reasons why you should add Dalia to your diet.
Nutritional Information:
Effective for weight loss: Eating a bowl of dalia daily is helpful in losing weight. Dalia is loaded with fibre which will keep you satiated for long and thus help in weight loss. It is also low on calories.
Relieves constipation: Dalia is basically wheat with husk. Naturally, the husk makes this food rich in fibre, which cleanses the intestines and prevents constipation. Dalia with milk or vegetables should be consumed daily for best results.
Good for diabetic patients: Dalia contains complex carbohydrates and is low in glycemic index. This ensures a steady release of glucose in the blood, which helps in managing blood sugar.
Good for growing children: Dalia is a natural source of B-vitamins, minerals, fibre and protein and is much healthier than packaged foods as it has no preservatives. You can also make interesting dishes with it and hence it is an ideal food for growing children.
---
---
You may also like