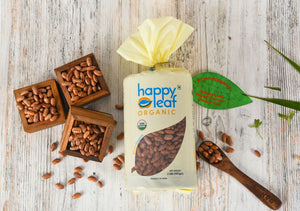 Organic Rajma Chitra (Speckled Kidney Beans) - 3.5 lbs
Rajma Chitra is characterized by strong flavor and intricate design on kidney shaped bean. Their taste is similar to regular kidney beans and can be used to make variety of recipes. They also have antioxidants that boost our immune system, protect us from harmful free-radical damage, possessing anti-cancer and anti-aging properties. It is a powerhouse of nutrition. For vegetarians it is an excellent substitute to meat. It promotes good health.Being rich in protein, fiber, and slow-release carbs,it is very effective at maintaining healthy levels of blood sugar. It contains a hearty mix of both soluble and insoluble fibre. Fibre helps to promote good digestive health and bowel regularity.
Nutritional Information:
Lower blood pressure
Good for weight loss
Kidney beans good for osteoporosis
Boost the Immune System
Rajma Chitra for diabetic patients: The glycemic index in Rajma Chitra is very low because of which the blood sugar level in the body is balanced. The risk of developing diabetes is reduced by including kidney beans in meals.
Anti-Ageing Properties of Rajma Chitra: Rajma Chitra are not only a rich source of protein and carbohydrates, but they are also a rich source of antioxidants as well. They are known to limit damage caused to cells and promote longevity as they have anti-ageing properties. The problems that are caused to our body and skin by eating unhealthy foods can be reduced by adding Rajma Chitra to the diet.
---
---
You may also like