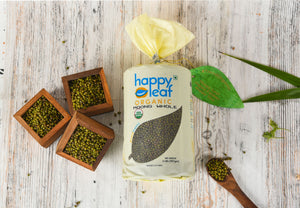 Organic Moong Whole (Green Gram Whole) - 3.5 lbs
Moong whole(green) is a small circular shaped pulse which is green in colour. It is rich source of vegetarian protein and is easily available.Moong whole(green) are high in nutrients and antioxidants, which may provide health benefits. In fact, they may protect against heat stroke, aid digestive health, promote weight loss and lower "bad" LDL cholesterol, blood pressure and blood sugar levels.Those who do not consume meat, poultry and eggs, green gram will be an excellent source and it is even less fattening.Green gram dal is bestowed with a powerhouse of antioxidants.
Nutritional Information:
Moong whole(green) has significant fibre content, especially soluble fibre pectin and high on the protein which slows the release of glucose in the bloodstream and keeps blood sugar under control. This type of dal has ample reserves of calcium and very little calories. This variety of pulses is good for your bones. Lowers cholesterol levels and reduces the risk of heart disease.
Mung beans with their skins on have a flavor reminiscent of green leafy vegetables but the mung dal with the skins removed has a mild sweet flavor and is often used for desserts as well as making khichdi and mung dal.
---
---
You may also like