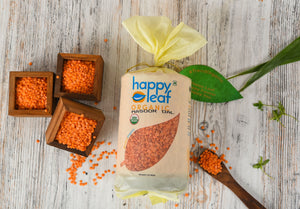 Organic Masoor Dal - 3.5 lbs
Masoor dal is a orange colored split dal considered to be one of the richest vegetarian protein source. It does not need soaking prior to cooking as it is a soft dal and cooks quickly.It is also known as red lentils, is power-packed with nutrients and has immeasurable benefits. The benefits of masoor dal had been recognised in the centuries past and thus it has constituted as an important part of Indian cuisine. Masoor dal houses a large proportion of dietary fibre.
Nutritional Information:
Masoor dal is known to be the supreme ingredient for most weight loss diets.
It scores low in glycemic index and inhibits the rate at which food is absorbed in the small intestine by blood.
It effectively slows down the rate of digestion and prevents sudden or unexpected raises in the blood sugar level.
---
---
You may also like