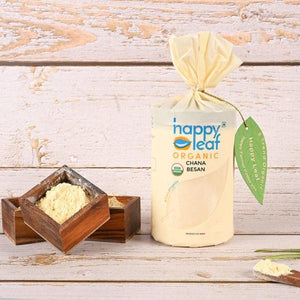 Organic Chana Besan (Bengal Gram Flour) - 3 lbs
Nutritional Information:
Organic Chana Besan is processed by grinding Organic Chana dal in stone mills.
Pale yellow in colour with a strong nutty flavour.
Promenient Ingredient for preparing variety of crispy recipes, sweets and also used as a thickener in curries.
Chana Besan is rich in fiber, iron, potassium, manganese, copper, zinc, phosphorus, magnesium, folate, vitamin B-6 and thiamine.
Rich in Fiber and Protein, healthy and tasty, Without Polish, Adulterant Free, anti- inflammatory, Packed with natural proteins.
Daily Need Products For A Healthy And Energetic Life.
Eat Natural Live Healthy.
---
---
You may also like