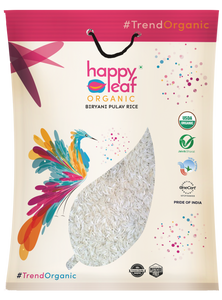 Organic Biryani Pulav Rice - 10 lbs
Biryani Pulav rice with its thin, fine grains is the ideal variety to use. Ghee is butter that has been slowly melted so that the milk solids and golden liquid have been separated and can be used in place of vegetable oil to yield a more authentic taste. Biryani Pulav is a variety of long, slender-grained aromatic rice which is traditionally grown in India, Pakistan and Nepal. According to the Indian Government agency APEDA, a rice variety is eligible to be called Biryani Pulav if it has a minimum average precooked milled rice length of 6.61 mm and average precooked milled rice breadth of up to 2 mm, among other parameters.
Nutritional Information:
Biryani Pulav is gluten-free and low in fat.
It contains all eight essential amino acids, folic acid, and is very low in sodium and has no cholesterol.
Biryani Pulav has a low to medium glycemic index, meaning that energy is released at a slower, steadier rate leading to a more balanced level of energy.
---
---
You may also like