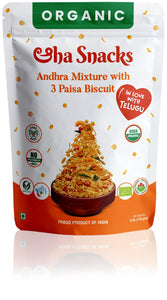 Organic Aha Andhra Mixture 170gms
One of the popular and best traditional snacks of the Andhra region, this fresh and crunchy mixture is spicy and delectable.
It matches perfectly with lunch or as an evening namkeen with tea or coffee.
This mixture recipe is also widely made during festivals such as Diwali, Dussehra, Raksha Bandhan, Holi, and Ugadi, along with sweets.
With high-quality spices and fresh oil, this Andhra mixture is handmade and packed under hygienic conditions.
Enjoy the irresistible and mouth-watering taste of this crispy mixture, by simply ordering it online.
---
---
You may also like